Red Pant Suits
A red pant suit can be a bold and fun addition to your wardrobe. Whether you choose a pant suit in a bright red color or a darker, richer shade of red, owning a red pant suit will add color to your wardrobe.

Below are a variety of red pant suits offered at various websites:
---
Separates offered at Macy's in misses sizes.
---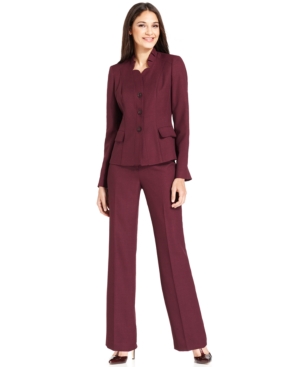 Offered at Macy's in misses sizes. Also available in women's plus
sizes.
---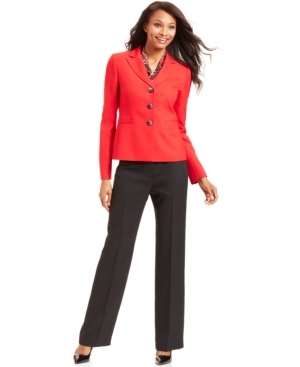 Offered at Macy's in misses sizes. Also available in petite
sizes.
---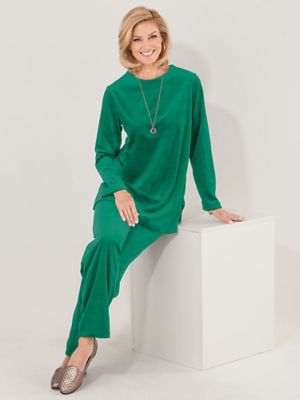 Offered at Old Pueblo Traders in misses sizes, petite sizes and women's plus sizes. Shown above in a plum color, it's also available in the color red.
---
---
Red Pant Suit Fashion Tips:
Styles of Red Pant Suits for Women
There are three-piece red pants set as well as two piece red pant outfits. Some of these red pant suits may have both a red jacket as well as red pants. Others may have only one piece that is red. For example, a red pant suit might just have a red jacket paired with black pants. You could also create this look yourself by purchasing a red jacket and black pants separately.
There are many shades of red that a pant suit could be in. For example, there are red pant suits that come in the color rust, brick, wine, and so on. Some red pant suits are designed like a traditional women's suit. Others are more dressy and could have embellishments such as satin trim or rhinestones. Red pant suits can come in many sizes, so if you need a red plus size pant suit, you should be able to find one. For a more comfortable fit, you may want a pant set where the pants have an elastic waist. For functionality, look for red pant suits that include pockets – either in the pants on the blazer.
What Color Blouse to Wear with a Red Pant Suit
If your red pant suit doesn't come with a coordinating blouse or shell, you may be wondering what color shirt to wear with it. White goes with just about everything, so you can't go wrong wearing a white blouse with a red pant suit. A black blouse or shell will also look great with a red pant suit. If you are wearing a pant suit that consists of black pants with a red jacket, wearing a black blouse or shell can create a coordinated look.
Accessorizing a Red Pant Suit
If the buttons on your red pant suit are gold-tone or silver-tone, you can wear jewelry in the same tone for a coordinated look. If you want to wear red gemstones with your red pant suit, choose a gemstone in a color that doesn't clash with the shade of red of your pant suit. Garnet, ruby, red jasper and carnelian are some examples of red gemstones.