Pinstripe Pant Suits
A pinstripe pant suit can be a very professional looking suit. If you are looking to build your work wardrobe, you may want to consider adding one of these types of pant suits

Below are a variety of
pinstripe pant suits
offered at various websites:
---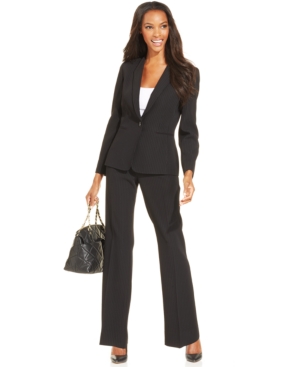 Offered at Macy's in misses sizes.
---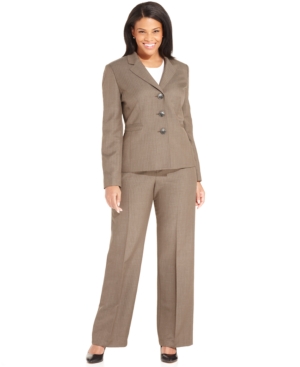 Offered at Macy's in women's plus sizes.
---

Offered at Amazon in misses sizes.
---
Separates offered at Macy's in misses sizes. Jacket
and pants
also available in petite sizes.
---
---
Pinstripe Pant Suit Fashion Tips:
Pinstripe Pant Suits for Women
A traditional pinstripe pant suit can be a great woman's business suit. A pinstripe pattern consists of thin vertical stripes that are parallel to each other in the fabric. The stripes in a pinstripe suit can help to create an elongating look.
Styles of Pinstripe Pant Suits
Classic pinstripe pant suits may come in colors such as gray, navy or black and feature a lighter colored pinstripe (such as a white pinstripe pattern). Sometimes you can find a pinstripe pant suit that features a more fun colored pinstripe. For example, there are suits that have purple pinstripes or pink pinstripes. Sometimes you will find three piece pinstripe pant suits that include a coordinating blouse, while other times you may find two piece pinstripe pant suits where you have to add your own blouse. When choosing what blouse to wear, it can be tricky to find a blouse that has a pattern design that looks good with the pinstripe pattern of your suit. The safest and easiest option when choosing a blouse is to choose a solid colored one. If you want to create a super coordinated look, you can try to wear a blouse with the pant suit that matches the color of the pinstripes.
When purchasing a pinstripe pant suit, you need to make sure the jacket and pants match exactly. Therefore, if you are buying pinstripe pant suit separates, make sure the separates are designed to go together. Jacket styles in pant suits can really vary. You can find long sleeve pinstripe pant suits and well as ones with short sleeves. Some may even have three-quarter length sleeves. Some jackets may close with a single button, while others may have several buttons. Some jackets may have a collar, other may be collarless or might have a mandarin collar. Some jackets may also have shoulder pads. Some suits may have no pockets, while others could have several. Some suit pants may have a slim classic fit, while others could have a wide leg style. The pants may or may not have belt loops, and some pants waists could even have elastic for comfort.