Pink Pant Suits
A pink pant suit can be a pretty and feminine addition to your wardrobe. Whether you want a light pink pant suit or a darker rose pant suit, a pink pant suit will add color to your wardrobe.

Below are a variety of pink pant suits offered at various websites:
---
Separates offered at Macy's in misses sizes.
---

Offered at Womensuits in misses sizes and women's plus sizes.
---

Offered at Bedford Blair in pink in women's plus sizes.
---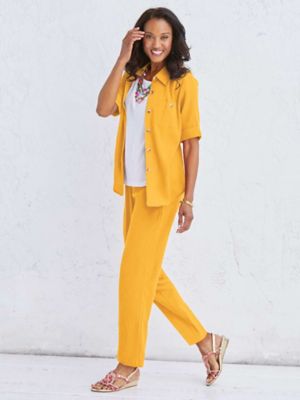 Offered at Old Pueblo Traders in misses sizes, women's plus sizes and petite sizes. Shown above in blue, but also available in the color "raspberry".
---
---
Pink Pant Suit Fashion Tips:
Styles of Pink Pant Suits for Women
There are two piece pink pant suits as well as three-piece pink pant suits. You might want an entirely pink pant suit, but you also might want to consider one that incorporates other colors. For example, some pantsuits come with a pink jacket or blazer and black pants. You could also create this look yourself by wearing separates. For example, you could buy a pink jacket separately and then pair it with a pair of gray or black slacks. You might also want a pink pant set where the top is a tunic style instead of a jacket or blazer.
There are many shades of pink, and, therefore, there are many different colors of pink pant suits. These outfits can range from a soft baby pink color to a dark magenta. Sometimes the color of these pant suits might be called blush, rose, raspberry, dusty pink, mauve, and so on. For a winter look, you may want to choose a darker shade of pink and a jacket that has long sleeves. For a summer look, you may want to go with an outfit in a lighter shade and a jacket that has short sleeves or a tunic that sleeveless.
What Color Blouse to Wear with a Pink Pant Suit
Many pant suits require a blouse or shell to be worn under them. Sometimes pantsuits will come with this blouse, and other times you wear your own blouse with it. If you find yourself having to provide your own blouse, you may wonder what color blouse goes best with a pink pantsuit. A white blouse is always appropriate. White and pink look great together. Gray and silver also look very nice with pink, so you may want to wear a blouse in one of those colors. Brown also usually goes well with pink. And black goes with just about everything, so a black blouse will look fine with a pink pant suit.
Accessorizing a Pink Pant Suit
If your pink pant suit has any embellishments or buttons in either gold-tone or silver-tone, match the tone of your jewelry to it for a coordinated look. If you want to wear pink jewelry, make sure it doesn't clash with your outfit. Another way to look coordinated is to match your shoe color to the color of your blouse.