Dressy Pant Suits
Dressy pant suits are a great attire choice. These types of pant suits can be both stylish and feminine, as well as appropriate for many occasions.

Dressy pant suits can be very comfortable and yet still stylish. In fact, some can be just as dressy as some dresses.
Below are a variety of dressy pant suits offered at various websites:

---

Offered at Blair in misses sizes, women's plus sizes and petite sizes
---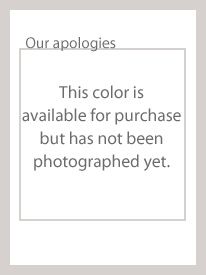 Offered at Blair in misses sizes and women's plus sizes
---

Offered at Boscovs in misses sizes
---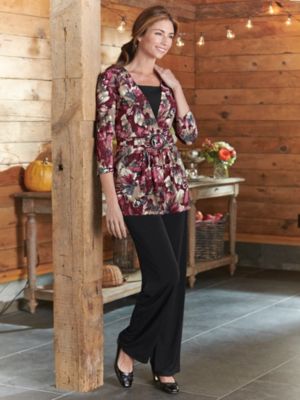 Offered at Bedford Fair in misses sizes, women's plus sizes and petite sizes

---
---
You may also be interested in seeing our formal pant suits page, evening pant suits page and special occasion pant suits page.
Dressy Pant Suits Fashion Tips:
Dressy Pant Suits for Women
A dressy pant suit is a wonderful attire choice when you want to get dressed up. They are a great choice to wear to many places such as a nice restaurant or a graduation. While a dressy pant suit might be appropriate attire in some business offices, they do differ from traditional women's business suits in many ways. While a traditional business suit is usually monochromatic, a dressy pant suit may include a pattern design. For example, it might have a jacket that has a floral print or paisley print. They are often more colorful then the traditional black, gray and navy colors of a business suit. They are also often made of softer fabrics (such as chiffon or peachskin). A classy dressy pant suit is a wonderful outfit choice, and adding jewelry such a necklace and earrings can be the perfect finishing touch to your outfit.
Styles of Dressy Pant Suits
There are two piece dressy sets that consist of coordinating tops and pants as well as three piece dressy pant suits that can have more of a "suit" look. A tunic jacket is one style, and a flowing open front jacket is another style that tend to be on the dressier side. Jackets with feminine touches such as ruffles at the hems and sleeves or embroidery can also dress up a suit. Sometimes shoulder pads can enhance the look of a jacket. When wearing a three-piece suit, wearing a shell under the jacket is usually more dressy than wearing a button down shirt. For example, you may want to wear a scoop neck or v-neck shell. Another style that can be quite dressy – depending on the material – is a duster pant suit. (A duster is a long length jacket.) For example, a flowy duster can be so pretty, and actually, any flowing dressy pant suit is another great style option. There are, of course, dress pant suits that come in misses sizes, petite sizes, and women's sizes. Those who wear plus sizes may prefer pants that have an elasticized waist or pants with a flat-front with black elasticized waistline. Jackets with side vents can also make the outfit more comfortable, while side seam pockets can add some functionality.
Dressy Pants Suits for Weddings
Dressy pants suits are an attire option to wear to weddings. Avoid wearing white pant suits (as white is traditionally reserved for the bride). Also, don't choose a pant suit that is too flashy because you don't want to distract from the bride. If you want to be very dressed up, you may want to consider wearing a women's formal pant suit to the wedding.