Capri Pant Sets
Capri pant sets can be a stylish and fun addition to your wardrobe. A pant set that includes capri pants can be a great attire choice in warmer weather.

Below are a variety of capri pant sets offered at various websites:
---

Offered at Blair in misses sizes, women's plus sizes and petite sizes
---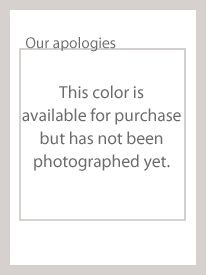 Offered at Blair in misses sizes and women's plus sizes
---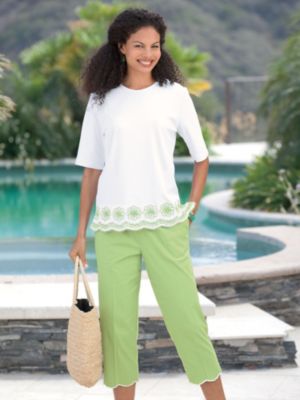 Offered at Bedford Fair in misses and petite sizes
---

Offered at Blair in misses sizes, women's plus sizes and petite sizes

---
---
Capri Pant Sets Fashion Tips:
Capri Pant Sets for Women
A capri pant set may include two or three pieces – a jacket and/or top and capri pants. Capri pants are shorter length pants that can end somewhere between the knee and ankle. If you like the look of capri pants, you may also want to consider sets that include cropped pants. Cropped pants are similar to capri pants, but tend to be longer than capris.
Styles of Capri Pant Sets
Some capri pant suits are more formal for those times when you need to be dressed up, and there are other capri pant sets that are appropriate to wear when you want something more casual. If your office dress code allows it, there are some capri work suits that can look very stylish. A capri set is a great outfit choice to wear in the summer, and wearing a linen capri set can be a great option when the weather is warm. In the warmer months may also want to consider wearing a capri set that includes a jacket with short sleeves or possibly three-quarter length sleeves. For a more casual look, you might want to wear a denim capri set. And if you are looking for pajamas, there actually are also quite a lot of pajama capri pant sets.
The length of the pant leg can differ in each of these type of sets. It is a good idea to always check the inseam length to see if it is the length for which you are looking. In order to have the pants fall at the intended length, petites may want to look for sets that come in petite sizes. The same holds true for those who wear tall sizes – look for capri pants that come in tall sizes. Plus size capri sets are great for those who wear women's sizes and want to wear something longer than shorts, but want something shorter than pants.
Capri Pant Set Separates
If you find yourself having a difficult time trying to find the right capri pant suit for you, you may want to consider buying the jacket and / or top and capri pants separately.  A pair of basic black trouser capri pants can be paired with a variety of different colors and styles of jackets or tops. For example, you could create a more professional look by pairing the black trouser capri pants with a suit type jacket. You could create a more dressy look by pairing the capri pants with a dressy type blouse. And you could also create a more casual look by pairing the same capri pants with a knit top or sweater.
Accessories to Wear with your Capri Pant Set
A capri pant set gives you the perfect opportunity to show off your ankle bracelets. You also have many shoe options to wear with capris. In the summer you may want to wear sandals or wedges. And both heels and flats can look good with capri pants.